Fat Reduction & Weight Loss

Vanquish™ Fat Loss
Vanquish™ is a breakthrough in non-invasive fat removal using contactless radiofrequency technology. Sit comfortably and relax while your fat is being selectively targeted and disrupted. The large spot size covers the abdomen from flank to flank, cumulatively improving circumferential reduction. Vanquish automatically tunes its frequency to match and target its thermal energy into the impedance range of fat tissue, causing heat induced apoptosis and reduces the circumference of the entire abdominal area. NO contact NO pain NO risk of infection NO downtime

X-Wave™
Using the energy of acoustic waves, X-Wave achieves the best results in cellulite treatment. X-Wave promotes growth of new capillaries, therefore increasing the oxygen supply and metabolic rate in the affected area. Acoustic pulses induce proliferation of fibroblasts leading to creation of new and thickened band of collagen. Simultaneously, mechanical stimulation of lymphatic vascular system leads to reduction of edema and better elimination of the lipids from the subdermal fat cells.

Exilis Elite™ Body Contour
Exilis system represents the world's most advanced technology for body shaping, skin tightening and facial rejuvenation. Focused thermal energy disrupts collagen fibres which then initiates the unravelling process. Ultimately, natural healing process evokes fibroblasts to produce new collagen fibres.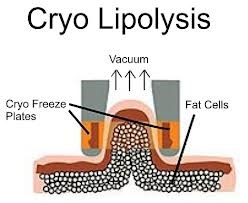 Cymedics Cyrolipolysis
Cymedics cryo uses the methods and technology of controlled cryolipolysis to treat stubborn fatty deposits. Applicators separate and isolate fatty tissue and protect the surrounding tissue throughout the entire treatment. This enables targeted cooling of localised areas. Cymedics cryo induces a highly precise flow of coldness through the skin into the respective fatty deposit, the natural physiological follow-on processes then ensure the breakdown and removal of unwanted fat cells.

Accusculpt™
Accusculpt™ laser assisted lipolysis features unique 1444nm micro-pulsed Nd:YAG wavelength for facial and body contouring. Its unique wavelength has greater affinity for fat and water over competitive wavelengths, optimised to facilitate efficient fat emulsification and skin tightening through collagen remodeling. The Acculift procedure can be accomplished through an invisible entry point made by needle and 600 µm optical fiber, resulting in no scars, minimized discomfort, less bruising, minimal downtime.

Velashape™
Velashape technology combines infrared light, bi-polar radio frequency energy and vacuum to achieve deep heating of the fat cells, their surrounding connective tissue and the underlying dermal collagen fibers. This type of efficient heating and vacuum stimulates the growth of new and better collagen and elastin which results in localized reduction in skin laxity, body volume, and an overall improvement in skin structure and texture. Expected outcome of the procedure includes gradual smoothing of skin's surface with a noticeable reduction in cellulite as well as circumferential reduction with noticeable reshaping of the treated area.

Mesolipo
Mesolipo fat melting injections uses mesotherapy techniques to target stubborn localised fat and cellulite deposits. It is a much less invasive alternative to liposuction. The injected medications slowly dissolves and breaks the undesired pockets of fat under your skin. After this, the body proceeds to naturally eliminate the residue over the next 3 to 4 weeks. It is a fairly quick procedure and any side effects experienced will be minor, such as swelling, bruising and sores which should subside naturally in a short period of time.

Weight Loss Medications
Eating less and moving more are the basics of weight loss that lasts. For some people, prescription weight loss medications may help. Drop by and consult our doctors for a tailor-made weight loss plan, we will walk you through a journey of an optimum combination of education, therapies and appropriate prescription medications to achieve the best weight reduction results.