Fractional CO2 Laser
The Fractional CO2 Laser has been called the anti-aging advancement of the 21st Century. Fractional laser treatment has bridged the gap between the ablative and non-ablative laser techniques. It works by targeting both the epidermis and dermis, delivering a laser beam that is divided into thousands of tiny but deep columns of treatment into the skin. This highly effective procedure is commonly used to treat various skin pigmentation associated with photoaging eg. age spots, acne and surgical scarring, stretch marks, as well as facial lines and wrinkles (rhytides).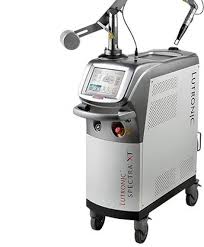 Spectra™ XT Laser
The Spectra XT is a versatile Q-switched Nd: YAG Laser capable of producing combination of high peak power and short pulse width laser, hence delivering efficient destruction of targeted pigments with minimal collateral thermal damage. It is the laser on the market FDA cleared to treat melasma. The Spectra XT Laser can also be used in the treatment of epidermal naevi, acne scars, pigmented and vascular lesions, non-ablative skin resurfacing as well as tattoo removal.

LightSheer™ Duet Laser
In the past, remedies for unwanted hair included plucking, shaving, waxing, electrolysis or chemical depilatories. Some are painful, some are messy, and all are only temporary. Laser hair removal is a more effective solution. The LightSheer™ Duet Laser uses diode lasers with vacuum-assist technology to remove unwanted hair with greater speed and comfort than other methods. During the procedure, the laser pulses for a fraction of a second, allowing the hair to absorb the light and heat up. As it heats up, the hair shaft and bulb are damaged, which significantly impedes its ability to regrow.

Accusculpt™ Laser
Accusculpt™ laser assisted lipolysis features unique 1444nm micro-pulsed Nd:YAG wavelength for facial and body contouring. Its unique wavelength has greater affinity for fat and water over competitive wavelengths, optimised to facilitate efficient fat emulsification and skin tightening through collagen remodeling. The Acculift procedure can be accomplished through an invisible entry point made by needle and 600 µm optical fiber, resulting in no scars, minimized discomfort, less bruising, minimal downtime.

Ultrapulse CO2 Laser
CO2 lasers have long been considered the industry's 'Gold Standard' for ablation, delivering an optimal ratio between ablation and coagulation (heating tissue without evaporating it). The laser generates beams of coherent light that are absorbed by the body's tissue as energy. In the target area, this energy causes temperature elevation which results in tissue evaporation or ablation. CO2 lasers can effectively treat a broad range of skin conditions by removing all or part of the skin. Such examples of condition includes moles, xanthelasma, raised scars, skin tags, warts and others. It can also be used for skin resurfacing purposes.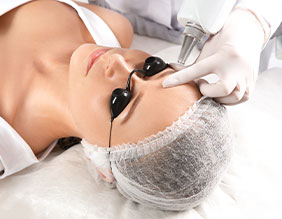 LaseMD™ Laser
LaseMD™ is a CDS (Cosmeceutical Delivery System) program for skin care, combining a laser system and its exclusive cosmeceuticals. Typical cosmetics have great difficulty in building skin up due to their low absorption rate. The Lasemd station creates multiple laser microchannels on the skin surface, following which exclusive cosmeceuticals are applied onto the skin. This combination ensures optimal absorption of the cosmeceuticals to achieve brilliant effects. The LaseMD™ programme is best suited for the following indications : Wrinkle prevention, Antiageing, Brightening, Whitening, Epidermal Melasma, Skin Pigmentation, Skin Laxity, Scar Reduction, Feathering, Hair Loss, Décolleté Care and Actinic keratosis.


PRP Rejuvenation
Popularly known as the "Vampire" or "Dracula" therapy, PRP achieves regeneration and rejuvenation by biological stimulation of resident stem cells by growth factors. Application is done via injection of the persons own enriched autologous plasma (with high platelets concentration) to the areas of interest. These platelets release growth factors that assist the human body to repair itself by stimulating cells to regenerate new tissue. Expected results of vaginal PRP rejuvenation includes greater libido and arousal, tighter vaginal opening, stronger and more frequent orgasm, increased natural lubrication, decreased occurrence of painful intercourse as well as decreased urinary incontinence.